I have trained Martial Arts (Ving Chun & Jeet Kune Do) since 18 years. But as I watched this video on YouTube, I do not know whether I should laugh or cry !
Runs, bites and hiding
. That was the
Pencak Silat
Final of the class 45-50 Kg between Indonesia (
blue
) and Thailand (
red
) in the SEA GAMES 2011 in Jakarta hosted by Indonesia.
The Indonesian
Pencat Silat
fighter
ran
and
hid
behind the referee from Singapore during the fight. His actions did not reflect the virtue of a
true fighter
, thus embarrassing his own country.
« As an Indonesian myself, I felt ashamed of his action ! »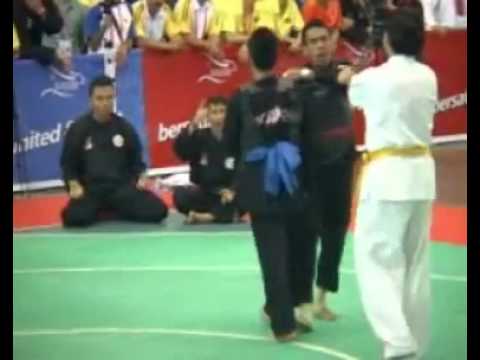 And here is the article about the most ashamed gold medal at 26th SEA GAMES in Indonesia 2011 :
REPORTING FROM JAKARTA
Outrage has sprung up among the regional silat community after a Singaporean
Pencak Silat
referee made a highly controversial decision in the competition finals.
Singaporean referee Jasni Salam had chosen to award Indonesian
Dian Kristanto
the gold medal in the finals of the Class A 45-50kg event after the athlete had
bitten
his Thai counterpart,
ran away
from him and
hid
behind Salam's back.
Kristanto
's antics started after two rounds of competition between him and
Anothai Choopeng
, who was leading at the end of the second round on Thursday afternoon.
A
Yahoo! Vietnam video
shows the Indonesian athlete in the third round dodging his opponent, running in circles from him and even biting him on the shoulder. Outrage and objection ensues from
Choopeng
's teammates, who tried in vain to wave to the referee to take action.
The 50-second clip goes on to show
Kristanto
running behind referee Salam's back and hiding from
Choopeng
(to boos in the background), cutting to Salam declaring Kristanto the winner.
The
Jakarta Post
also reported that the gathered local spectators reacted to the incident by throwing plastic bottles into the ring.
« I tried my very best to be a referee there. That's all, » said Salam, who declined further comment when
Yahoo! Singapore
approached him at Changi Airport after he returned from Jakarta on Saturday afternoon.
Thailand's
Pencak Silat
team manager Rattanaphorn Thupbumrung expressed her dismay at the outcome of the match, telling
Yahoo! Vietnam
that many refereeing decisions in the competition had been made in favour of the host country.
Singapore's team officials were also in outrage, with team manager Sheik Alau'ddin Y Marican expressing his shame of Salam's actions, going as far as to say that he was ashamed of him being a fellow countryman.
« All the parent supporters and athletes present are very, very unhappy, » he said, adding that he had personally submitted a written request to the SEA GAMES organising committee to ban Salam from refereeing in the competition.
«I don't want other countries to think that we have anything to do with this (Salam's actions), » he said.
Sheik told
Yahoo! Singapore
that the competition's five-panel jury, as well as the chairperson and assistant chair overseeing the silat referee, had called Salam forward in the wake of his controversial decision, but Salam would not comply.
« (
Kristanto
) should have gotten a warning for running away (from
Choopeng
), but the opponent received the demerit instead. It's a shame, » said Sheik, who is also the chief executive officer of the Singapore Silat Federation (SSF).
Assistant international technical delegate Asnadi Robani, who oversaw the technical proceedings of the competition, told
Yahoo! Singapore
that he was outraged and frustrated from what had happened.
« It is a blunder from the technical side, » he added. « I made my stand, and I said we should not let him referee any more matches for the rest of the day, because we didn't want people to have doubts about his credibility. »
« I give very clear instructions to all my referees, » he added. « Rules are rules, and if you break the rules, I have to take action against you… I was very, very angry at that point of time. »
The chief international technical delegate, however, who is Indonesian, told Robani to calm down and let the matter rest.
Speaking of
Kristanto
's third-round antics, he likened the athlete's actions to those of « a clown in a circus ».
« You show me any martial arts competition anywhere, you will never see these kinds of things. I have never seen these kinds of things before. It's very shameful, » he said.
Robani, who chairs the referee council in the SSF, had chosen Salam and another female referee from Singapore to referee at the SEA Games. The two also went through approval at the International Silat Federation, which is based in Jakarta.
« He (Salam) went through the selection process alongside everyone else, and managed to go through, » said Robani, who added that Salam has had more than 20 years of experience refereeing for international competitions, including the 2005 SEA GAMES in the Philippines.
Robani and Sheik have since declared that they will call for an SSF board of enquiry into Salam's actions at the Games come Monday.
« We will report our findings to the International Federation, and they will definitely have to honour and respect our decisions, » said Robani, who also wears the hat of secretary of the Institution of Referees at the International Silat Federation.
He expressed his regret at the outcome of the drama-filled final match between
Kristanto
and
Choopeng
as well.
« I was expecting the Thais to submit an official protest (in response to the referee's decision), but they didn't, and so by rule, if they don't protest, the decision goes as is, » he said. « If they had put up an official protest within the time given, things could have been reversed. »
« The Indonesians (who know about this) are really ashamed of this medal, it's truly not theirs, » he added. « The medal should have gone to Thailand. »
Source :
Outrage over S