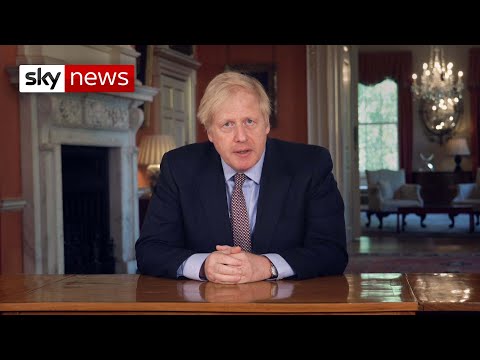 What?
So I have not been able to keep up on this BS due to being incommunicado but it seems last Wednesday at PMQs (Prime Ministers Question Time) Boris Johnson said he would speak about his Covid-19 recovery plan last night. This was a bit shady from the start since Parliament is supposed to be informed and given the chance to discuss policy before it being enacted and a Sunday night is hardly prime time as most people are in normal circumstances preparing for the working week again.
However apparently Bojo also recorded this message before meeting with Cabinet which understandably annoyed them as it effectively meant any policy input they may have was denied and that effectively this was rule by No 10 alone.
So the PM gives this 'address' about his 'plan' which is really just a list a dreams along with some graphs supposed to impress people and make them think the Government might actually know what it's doing. If that was the desired effect it appears it failed massively as the confusion in this message was evident to all. So if you go work in construction or manufacturing go back to work but avoid public transport... What if have to take a train or a bus to get to work? Schools might reopen on a limited scale from June but what if you are a single parent and work in manufacturing/construction? Who's going to look after the children if you go back to work? In terms of a supposed statement of policy setting out a 'plan' from a British Government this is far and away the most incoherent babble I have seen in my life and I cannot think of a worse historical example either other than the Brexit slogans. There was no mention of figures or the data to justify a change even - just artificial 'levels' which may or may not have been reached. Nor is it clear why those flying into the UK must only now 'self isolate'; why not before and what has the 'r' got to do with it? It is literally incoherent on every level. One can imagine there must have been many construction/manufacturing employees wondering if they should go to work the next morning and if so how to do so. Given that this message was broadcast at 7pm local time on a Sunday evening few company offices will have been open. Presumably some hoped that the confusion would be cleared up with the '50 page plan' and statement in the House by the PM which were promised today.
Meanwhile in the week another oversight first came to light when the Government slogan terminology changed from "Stay Home, Protect the NHS, Save Lives" to "Stay Alert, Control the Virus, Save Lives." What is one supposed to 'alert' against? An unseen virus? Possibly anyone not observing 'social distancing' should be reported to the police? Should a watch routine be implemented over night? It could mean anything. But the devolved authorities of Scotland and Wales said they were not buying this - they would stick with the prior advice "Stay home, protect the NHS, save lives" and thus would not be implementing the new 'plan' that Bojo incohently blustered about yesterday.
Meanwhile apparently this morning Dominic Raab(id), theoretically the Foreign Secretary but who is now apparently also 'First Secretary' (presumably meaning he chaired he Cabinet while the PM was in hospital) did a tour of London breakfast TV and radio news shows in which he contradicted himself regarding the interpretation of Johnson's bluster about sitting in parks where No 10 later said you may also meet people from another household (contradicting Johnson by way of 'clarification'). Raab(id) apparently said on one programme that someone could meet their mother in a park as long as 'social distancing' were respected. Then apparently in another programme he said that it would okay for a person to meet both their mother and father in the park as long as social distancing rules were observed. This latter advice was then promtly rolled back by No 10 who said that Raab(id) had been 'mininterpreted'. So right now where policy stands on meeting your friend or your family outside, since presumbaly they should be visited due to 'social distancing', is unclear to say the least.
Next came the '50 page document' which it turns out was actually 60 pages called "Our Plan to Rebuild: The UK Government's Covid-19 recovery plan";
https://assets.publishing.service.go...v2_WEB__1_.pdf
This at least said that "go back to work" guidance was intended to start from Wednesday (13th May) rather than today which Johnson had not bothered to mention in his TV ramble. Yet it gives no details of how re-openign businesses are to implement sufficient safety standards or testing to stop any renewal of the spread of infection. If a business re-opens and an employee catches the virus at work - or on public transport on the way to work - they could theoretically be sued under health and safety at work regulations yet the Government has issued not one guideline as to what safety measures a single industry should try to implement. These details apparently will be released 'later this week'. Well when this week? Because you are telling them to go back to work on Wednesday.
The whole document is just more long winded bluster; "As the UK recovers, the Government will ensure people with disabilities can have independent lives and are not marginalised..." But Johnson said "if" cases do increase again schools may be partially re-opened from June 1st in his incoherent TV babble. On the 'self isolation' of those arriving into the UK again no reason is given as to why this is only now to implemented when 100s of 1000s have been arriving previously but these rules will not apply to those arriving from Ireland and France... Why are they exempt? Not for clinical reasons one must imagine but no answer is to be found as to why a French citizen arriving in the UK need not 'self isolate' but a German must and this discriminatory policy is bound be challenged in court.
So then Johnson addressed the House of Commons and blustered yet more
https://www.youtube.com/watch?v=GvTZhe9ZXWM
and was rightly pulled apart by Sir Keir Starmer (who rises around 13:50) and is well worth watching. Starmer asks for "clarification" of these contradictions as no doubt do most British people and Johnson splutters about "Good solid British common sense."
It is clear that the Johnson - for one cannot his Government since they were also excluded from signing off on this debacle - has no plan and has not spoken or coordinated with the devolved Government and that the UK is not even run by a Government or that the House of Commons can at present fulfill it's duty of oversight. The UK is run a by fool in fools clothing and this may explain why it has the highest number of deaths in Europe. Honestly I cannot think of a more bungled and incoherent policy programme in British history. It would a comedy if it did not cost lives.