Ex-Kremlin Media Boss Hit With Call For Probe Over Pricey U.S. Real Estate
August 3, 2014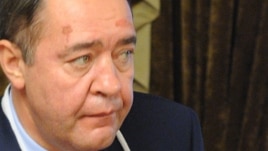 Russia Today (RT) founder Mikhail Lesin
WASHINGTON -- A U.S. senator has asked federal authorities to investigate whether a powerful Russian media mogul seen as the mastermind behind the Kremlin-funded RT network used dirty money to purchase pricey California real estate. U.S. Senator Roger Wicker (Republican-Mississippi) has asked the Justice Department to investigate whether Mikhail Lesin, Russian President Vladimir Putin's former press minister, violated the Foreign Corrupt Practices Act or laundered money by acquiring multimillion-dollar homes in the Los Angeles area. "I...understand that following his government service, Mr. Lesin moved his immediate family to Los Angeles, California, where he acquired multiple residences at a cost of over $28 million," Wicker wrote in the July 29 letter. "That a Russian public servant could have amassed the considerable funds required to acquire and maintain these assets...raises serious questions." Justice Department spokesman Peter Carr told RFE/RL that the letter was received and is being reviewed.
Lesin, 56, played an instrumental role in solidifying state control over the independent television channel NTV during Putin's first term in office, and he went on to serve as a Kremlin adviser during Putin's second term. He now heads state-controlled Gazprom-Media, the country's largest media holding. Documents provided to RFE/RL by Wicker's office -- and corroborated by public property registries -- show that companies associated with Lesin's immediate family purchased the three properties in the Los Angeles area.
These include a 13,000-square-foot Beverly Hills home purchased in August 2011 for $13.8 million by Dastel Coroporation, where Lesin's son, Anton Lessine, served as a corporate officer, according to public records. The address of this home and Dastel's business address are the same, according to public records and a lawsuit pending in California Superior Court. The property is located in Beverly Park, a swanky gated community with round-the-clock security and whose residents have included actor Samuel L. Jackson and professional basketball legend Magic Johnson, according to "The Los Angeles Times."
Dastel also purchased 10,600-square-foot Brentwood home for $9 million in 2012.
A third home, totaling more than 6,800 square feet, was purchased in Beverly Hills for $5.6 million by HFC Management, a firm that lists Lesin's daughter, Ekaterina Lesina, as a company officer. A LinkedIn profile lists someone named Ekaterina Lesina in the Los Angeles area as a producer RT, though the authenticity of the profile could not be confirmed.
Lesin and his family have been tied to a fourth multimillion-dollar property in a lawsuit filed against him and his family by a housekeeper named Martina Landis, who is seeking at least $1 million in compensation for alleged discrimination, labor law violations, and wrongful termination. In Landis's complaint filed in California Superior Court, she claims that she worked for the family at another Beverly Hills property that she describes as "the Lesins' home." The property is owned by a firm called Java Drive Inc., a reference to the home's address on Java Drive. The company bought the home for $4.3 million in 2009. The property is not mentioned in the documents Wicker's office provided to RFE/RL.
The call to investigate Lesin's alleged assents in the United States comes amid the U.S.-Russian standoff over the Ukraine crisis, which has seen bilateral ties reach lows unseen since the Cold War. Washington already targeted powerful Russian officials and wealthy businessmen close to Putin with sanctions in retaliation for the Kremlin's annexation of Crimea and the continuing armed insurgency by pro-Russian separatists in eastern Ukraine. U.S. Representatives Jim McGovern (Democrat-Massachusetts) and Ileana Ros-Lenthien (Republican-Florida) urged U.S. President Barack Obama to add Lesin to a human rights blacklist over his handling of the state takeover of the NTV television in the early 2000s.
Russia Today (RT), the network Lesin is credited with creating and which has since been renamed "RT," has drawn the attention of U.S. Secretary of State John Kerry, who in April called it a "propaganda bullhorn." It broadcasts internationally in English. In 2001, he said he was "not embarrassed by the word propaganda," according to "The Moscow Times."
Source
As everyone should know by now, RT is a propaganda mouthpiece of the Russian government. Seems Lesin was amply rewarded for his role in the state takeovers of Russian media.